The SHS '73 Reunion Committe has opened up our Saturday Night event to other near classes, 1970 - 1975, come join us, and let anyone else know. Thanks!
Its $30 per person, $50 couple. Make checks out to SHS73 Reunion
Send check to SHS73 Reunion, 120 Diane Circle, Indialantic, FL 32903
Friday, October 26th

Front Street Civic Center

2205 Front St. - Melbourne, FL 32901
Riverfront Views & Breezes

Event Starts at 5:30

Cocktail Hour Get Reacquainted Starts at 5:30
Sit Down Dinner Starts at 7:00
Dress Dressy Casual

Sit Down Dinner - Choice of 3 Entrees

Beer, Wine & Some Alcoholic
Beverages, Waters, Sodas, Mixers Too

Music

Saturday, October 27th

Marina Side Residence

Old Eau Gallie Area
October Evening at a Great Location

Event Starts at 5:30

Cocktail / Social Hour at 5:30
Asian Cuisine Buffet Dinner Starts at 6:00
Dress Tropical Casual

Asian Cuisine Buffet Dinner

Beer, Wine & Some Alcoholic
Beverages, Waters, Mixers Too

Live Music
Come join us for a great time with great friends!
Tickets are just $60 per person / $110 for couples, for the two weekend events.
We tried to make it affordable for everyone.
We will keep a list of attendees, so no need for tickets.
Make checks out to "SHS73 Reunion" and mail to Mike Swift, 120 Diane Circle, Indialantic, FL 32903. Thanks. See you soon. Pass the word!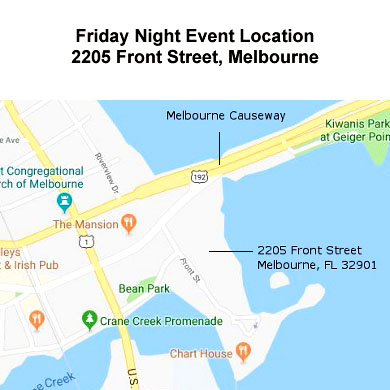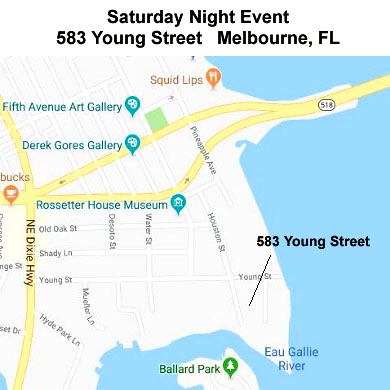 BELOW ARE STORIES AND PICTURES OF PAST REUNIONS - CHECK IT OUT

P>
Hello Everybody! Thanks to those who made it to our 40th reunion. I think everyone really had a great time, I'm still smiling from all of the memories and fun of the weekend. I hope the folks that could not make it to this one will make an effort to attend the next one.

So keep in touch with yours friends and check back to this website in the future. Follow the link(s) below to view pix from the 40th. This first set is from Vance Temple, as well as lots of other shots from other classmates on Facebook. Enjoy!

Thank-yous to all, but especially "the committee." Lesley & Marc Bouwsma, Vance Temple, Lee Fuller Rocque, Mike Swift, Barbara Kane, Debbie Oppenheim Vaseilou, Barbara Adams and Kenny Berger.

Both events went off without a hitch, largely because of the people there. What a great group, and when it came to breaking down and cleaning up, damn it was like an army was attacking it. Big thanks for everybody that helped at the end of the nights. Especially Meg, "mopper extraordiniare." And thanks to Marc and Bill V. for the Friday night's "tablecloth dilemma" handling. One last thanks to Janice Kane and Pamela Swift ('75) for helping with the Saturday night setup.
SHS '73 35th Reunion
(our most recent reunion)

Thanks to EVERYONE who attended, the reunion would not have been the success it was without YOU. Many of you who have rarely attend were welcomed faces, along with the enduring friends that gather every five years.




Past Reunion Pics




A letter to the editor that appeared in the Florida TODAY paper a couple of days after our reunion. Thanks for the kind words Meg.